Android phones have now become so useful, it's hard to function in our modern society without them. Along with this, app developers have also developed so many apps, you practically have an app for whatever you need! If your phone has been around for quite a while, then chances are it's starting to slow down. Here's how to speed up Android phone without rooting.
We mentioned rooting because it's one of the best ways to speed up your Android phone. Rooting is the process of unlocking your operating system. Think of it as the android equivalent of jailbreaking.
Once your phone is rooted, you'll be able to fully customize it. You can do things like delete pre-installed apps, install unapproved apps, replace the firmware, overclock the processor, and many more.
But rooting can be a complicated process and lots of users are afraid of it. If you want to speed up your phone's performance, then try out these tips on how to speed up Android phone without rooting!
How to Speed Up Android Phone Without Rooting
1. Uninstall Bloatware
Bloatware is the preinstalled application you get when you buy your phone. These are the apps that you see when you open your phone for the first time. Some are very helpful and some are not really useful.
These apps also take up RAM in the background and take up your phone's Internal Memory. Even if you don't use them, their mere presence affects the performance of your phone. This is why it's important to delete any bloatware that you don't need.
2. Uninstall Rarely Used Apps
Throughout the years of use, our phones can have a lot of apps that we rarely use. The applications take up memory space so it's going to ultimately affect the performance of your phone. There are several ways to uninstall your apps. For most modern Android phones, all you need to do is long-press the icon of the app to uninstall it. If your phone doesn't have that feature, here are a few steps you can follow to delete your apps:
Go to your phone's Settings
Find the Apps section. Sometimes it's hidden inside the More settings tab.
Once you've opened it, scroll through the list of apps that you have and identify which ones you don't use anymore.
Tap on the app that you want to uninstall. This will open up options for you.
Tap on the Uninstall button and you're done!
3. Avoid Using Live Wallpapers
Live wallpapers can make your phone look even more modern and futuristic. Unfortunately, as nice as they are, they also consume a lot of your phone's RAM. A live wallpaper consumes an estimated 8 – 20 MB of RAM and 6% – 15% of CPU in the background.
If your phone doesn't have very high specs and relatively low RAM, this is going to be an issue. As a result, your phone will slow down and have a hard time doing anything else other than maintaining your live wallpaper.
It's better to use normal wallpapers because they don't take up as much RAM as live wallpapers. If you're not sure where to get nice wallpapers, there are lots of wallpaper apps for Android.
4. Disable Auto Sync
It's not very common knowledge that most phones have background auto-sync. This is used by a lot of apps so that the information in your app phone is identical and consistent with your other devices. As a result, auto-sync takes up a lot of your RAM and CPU. It even drains your battery a lot faster.
You can customize this feature depending on your needs. You can set it to synchronize once every hour or disable it altogether. Here's a guide on how you can do this:
Scroll down until you find Accounts or Accounts & Sync
For some phones, there's a slider to disable auto-sync in all apps. For some, you'll need to manually set it. If your phone has a slider, just tap on that and it will disable auto-sync. If your phone doesn't have it, you'll need to manually turn off auto-sync for each app.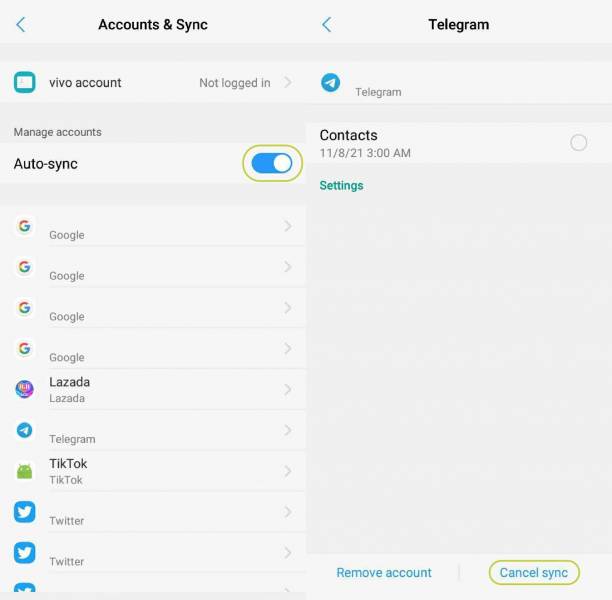 5. Practice Clearing Your Cache
Cache are small bits of information that your apps and browser use to speed up performance. Think of it as pre-saved data so when you open an app or a browser, it works faster. But through time, cached files can become corrupted or overloaded. As a result, this will affect the speed of your phone and its overall performance.
Cleaning your phone's cache periodically helps solve this problem. It frees up space in your Internal Memory and gets rid of corrupted cached files.  Here are the steps on how to delete the cache of your apps:
Find your App manager. For some phones, this can be under More settings, and for others, it can be under Storage. The location of this varies from one phone to another.
Tap on the app that you wish to delete the cache of. This will open up options for you.
For some phones, you need to tap on Storage to open further options. This will show you how much cache your app has and a button to clear it. For other phones, the Clear cache is already visible at this step. Just tap on it to clear your cache.
6. Reduce the Widgets in Your Home Screen
Widgets are a way for us to access information from our apps without needing to open the app. For example, your weather widget will show you the forecasted weather for today along with the temperature in your location. With a quick glance on your home screen, you already get the information you need without opening the Weather app.
But as awesome as widgets are for quick information, they can drain your battery quickly and take up RAM. The reason behind this is that for the information to stay updated on your screen, these widgets need to constantly work in the background.
To help your phone perform better and lengthen your battery time, it's best to limit the widgets on your home screen. To do this, all you have to do is long-press the widget, and an option to remove it will pop up.
7. Opt for Lightweight Version of Apps
Applications are the bread and butter of every Android phone. It's what makes Android phones what they are today. Naturally, these applications take up a lot of space in your phone's Internal Memory.
As you add more and more applications to your phone, your Internal Memory will start filling up. It's understandable if you need all of the apps on your phone. One way to keep your apps and reduce the data in your Internal Memory is to use the Lite versions of applications.
These apps function the same way as their full-version counterparts but have lesser features. This is because these apps were developed so that you can enjoy the major features and save on space. As these apps take up lesser space, you'll be helping out your phone in performing faster and better.
8. Factory Reset
If all else fails and your phone still isn't performing well, then maybe a factory reset will help solve your problems.
Factory reset is the process where you revert your phone back to the state when you first got it. It's literally resetting your phone as if it's fresh out of the factory, hence the name. It's important to note that this process will delete all of your personal information and your data.
This should be the last resort when you want to speed up your Android phone because it erases everything. But this is also why a factory reset is one of the best strategies on how to speed up Android phone without rooting. As it erases everything, all the junk that accumulated will now be deleted.
If you're going through this process, it's best to back up your data first. You wouldn't want to lose anything important because of a factory reset. Once you've made up your mind, here's a guide on how to factory reset an Android phone.
Key Takeaway
Our Android phones are one of the most important tools we have today in navigating our way around modern society. We use it to stay updated, socialize, communicate, and even shop. It's hard to get by if your phone is always lagging and freezing. That's why it's important to know how to speed up Android phone without rooting.